Advance Polls Open for the Provincial By-Elections in Innisfail-Sylvan Lake and Fort McMurray-Conklin
July 03, 2018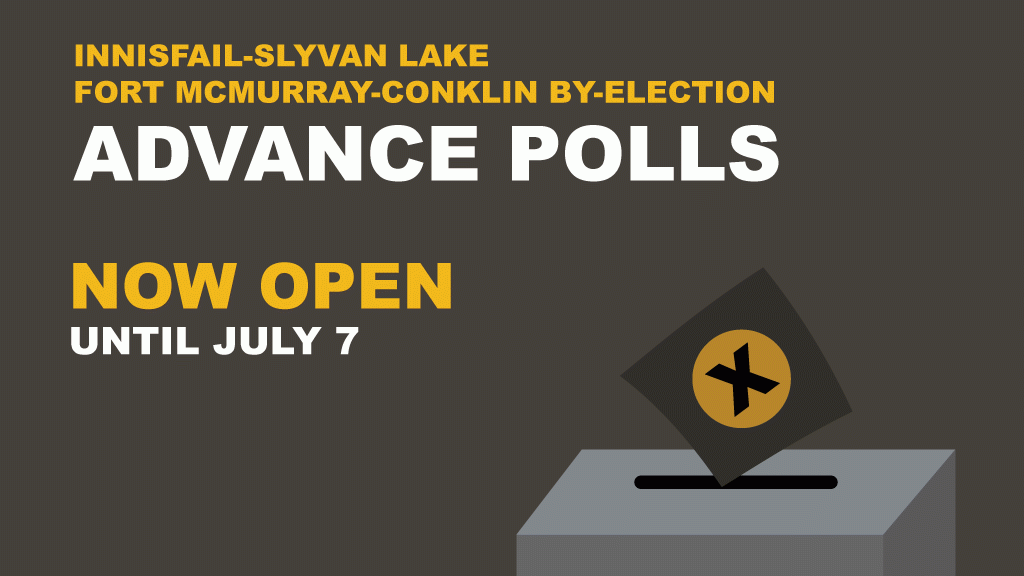 EDMONTON – Alberta's Chief Electoral Officer, Glen Resler, confirms that advance polls in Innisfail-Sylvan Lake and Fort McMurray-Conklin are now open. Advance poll locations are available in both electoral divisions from Tuesday, July 3 to Saturday, July 7 between the hours of 9:00 am and 8:00 pm. Election Day is Thursday, July 12, 2018.
Advance Poll Locations
Innisfail-Sylvan Lake has three advance poll locations that are open all five days.
Delburne & District Drop in Centre
Fox Run School

2 Falcon Ridge Drive; Sylvan Lake

Returning Office (Henday Centre)

98, 4804 – 50 Street; Innisfail
Fort McMurray-Conklin has two advance poll locations that are open all five days.
Returning Office (Fort McMurray Business Centre)

200B, 427 Gregoire Drive; Fort McMurray
Fort Chipewyan Municipal Office

101 Loutit Street; Fort Chipewyan
Fort McMurray-Conklin has three additional advance poll locations that are open for one day.
Wednesday, July 4

Conklin Nakewin Centre

245 Northland Drive; Conklin
Thursday, July 5

Janvier Municipal Office

110 Janvier Drive; Janvier
Friday, July 6

Fort McKay First Nation Band Office

SE-25-94-11-W4; Fort MacKay
Canadian citizens who reside in Alberta and are at least 18 years of age or older on Election Day are eligible to vote if they are resident in the electoral division.
To be added to the list of electors, an elector may register at an advance poll or on Election Day by providing authorized identification containing your name and residential address in the electoral division.  A list of authorized identification is on our website:  Authorized Identification.
For more information about the provincial by-elections visit www.election.ab.ca, call toll free at 1-877-422-VOTE (8683) during normal office hours, join us on Facebook or follow us on Twitter.
Elections Alberta is an independent non-partisan office of the Legislative Assembly responsible for administering provincial elections, by-elections and referenda.
For media inquiries, please contact:
Pamela Renwick
Director, Operations and Communications
Suite 100, 11510 Kingsway Ave NW
Edmonton, Alberta T5G 2Y5
780-427-7191
Posted in: Press Releases